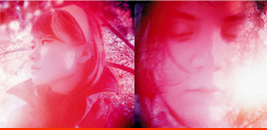 Asobi Seksu
-
Citrus
Regular extrawack! readers know of our
long-time
love
for these dream-poppers from NYC. As somebody who has seen them play a bunch of times between their debut album and this one, I've totally enjoyed hearing some of the new tracks slowly evolve into the brilliance that is all over
Citrus
.
Maintaining every bit of the fuzz & feedback energy of the first album, Asobi Seksu has folded a bit of pop sensibility into the mix, creating a sound that is not only compelling and exciting, but catchy as hell as well. Yuki's voice has only gotten better from a couple years of steady road work, and James Hanna deserves the cover of every guitar gadget magazine in existence with his creative and expert use of delay and countless other effects.
There are a lot of bands that take stabs at this kind of distortion-heavy, MBV-influenced, beautiful rock and roll, but very few really cut the mustard. In
Citrus
, Asobi Seksu not only prove themselves one of New York City's best bands, but puts them way out in front as leaders of the shoegaze scene globally.
Hear me fawn over Asobi Seksu on a recent edition of Contrast Podcast.
Asobi Seksu - "Thursday"
mp3
buy
Asobi Seksu - "New Years"
mp3
buy
Whirlwind Heat
-
Types Of Wood
This is one of those albums that sounds so unlike anything else that it's really tough to describe...but here goes:
Imagine a cross between Beck and The Breeders, with Death From Above 1979-style fuzzed-out bass, funky but low-key synth lines, and a singer that delivers his lines like a sober Lou Reed...that's kind of what this album sounds like. You're gonna have to listen (links below) to see if I'm close.
Even if I'm wrong, you're gonna do that chair-swivel thing I know you do when you're listening to something groovy while you're on the computer.
Whirlwind Heat - "Reagan"
mp3
buy
Whirlwind Heat - "My Electric Underwear"
mp3
buy
Zero 7
-
The Garden
Another classy and well-produced set of imaginative and mesmerizing songs by the team of Binns and Hardaker, featuring long-time collaborator
Sia
and several songs featuring hipster folk fave
Jose Gonzalez
.
Like previous efforts from Zero 7,
The Garden
manages to be both relaxing and momentous at the same time. However this album, though every bit a studio project as the band's other two, has a much more organic sound and feel to it. Zero 7 is one of those bands whose albums are never found in the same area from store to store...sometimes they are filed under "jazz", other times in "chill", "soul" and even in "electronica". This album does nothing to help the poor record store stockboy, as it's a melange of all those genres, and perhaps a few more. The bottom line, though, is that it's an incredibly groovy record.
A rare "studio band" with a fine reputation for live shows as well, Zero 7 will be touring the States starting in August, including a date on 27 August at the
Hollywood Bowl
featuring an opening set by Gonzalez.
Zero 7 (featuring José González) - "Left Behind"
mp3
buy