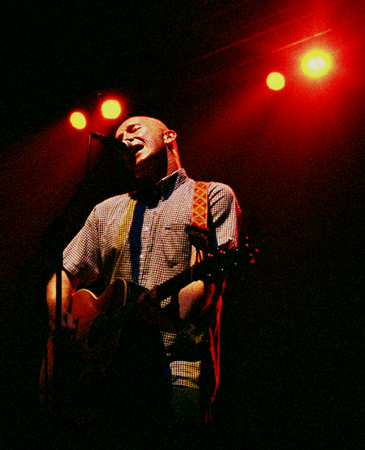 From The Go-Betweens Website:
On Saturday 6th May, legendary Australian singer songwriter Grant W McLennan died in his sleep at his home in Brisbane.

McLennan was one of Australia's greatest songwriters who created an outstanding musical legacy as a founder member of The Go-Betweens and as a solo artist. He was enjoying enormous acclaim for the band's most recent album Oceans Apart, which has received five star reviews around the world and won a prestigious ARIA award.
(
full story here
)
Sad, sad news.
Grant was an amazing songwriter, and had such a way with melody and guitar style.
The Go-Betweens
were one of those bands that I could not turn off of the radio (in those rare occasions they were played in this country) or the stereo if I tried.
The import copy of The Go-Betweens' "Liberty Belle & The Black Diamond Express" that my brother gave me as a birthday gift about fifteen years ago has always been one of those CD's of mine that never gets put away properly in the rack, because it's always out in one CD player or another.
Read more about them and hear them at Colin's fine blog:
Let's Kiss
& Make Up
Steve Kilbey of The Church's eulogy for McLennan is here.
Kilbey and McLennan colaborated in the band
Jack Frost
for a couple of fine albums.
Sound Of The Suburbs
has a trio of mp3's from Grant's Go-Betweens, Jack Frost, and solo work.
Indie MP3
has a couple of tracks from "The Lost Album".
The Go-Betweens - "Right Here" (Live 2004)
mp3
buy
The Go-Betweens - "He Lives My Life (Live 2004)
mp3
buy
**Update**
Let's Kiss & Make Up has posted a tributary treasure trove of fine Go-Betweens work
here
.