A weird but cool thing happened to me last week.
I was talking music with a friend who knows even more goofy trivia and minutia than I do, and we were stumped by one question in particular..."What happened to
The Toadies
after they broke up?".
The very next day, I received a copy of the
Burden Brothers
new album,
Mercy
, with a bio explaining the band was formed by Toadies singer Vaden Todd Lewis and Reverend Horton Heat drummer Taz Bentley. This is actually their second full-length. How'd I miss that?
Anyway, the album is straight-ahead rock & roll, complete with the hooks that made Toadies songs so easy to shout along with. It's the kind of record that you find yourself unable to keep nudging the volume dial up on.
I've asked around, and it sounds like their live show is pretty fantastic, too.
I'm on my way out to another day of CMJ, so I'll do the easy thing and cut and paste some more info from their bio: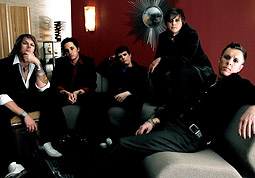 From the heart of Texas, the BURDEN BROTHERS are hard hitting rockers who have been making quite a racket since the release of their debut CD, Buried in Your Black Heart, in 2004. Formed by platinum-selling Toadies vocalist, Vaden Todd Lewis and acclaimed drummer Taz Bentley (Reverend Horton Heat, Izzy Stradlin), the band has shared the stage with the likes of Velvet Revolver, Papa Roach, and Finger 11. The Burden Brothers latest effort, Mercy, featuring the single, "Everybody is Easy (we sink / we swim)" will be in stores on Oct 31.

Mercy took a little over a year from pre-production to completion and it's immanent release. The band had just parted ways with their bassist and was in a kind of limbo when pre-production started. Bassist Justin Meldal-Johnson (Gnarls Barkely, Beck, Air, Ima Robot) was recruited for the LA recording sessions. "Besides his amazing musical ability, he fit in like we had known him for years" Lewis says. Zack Busby, joined as the band's permanent bassist after playing a few fill-in dates. He says, "at the time I was happy to just help out, get a chance to play with some really killer musicians that I respect. I was really blown away by the new material, it such a huge step forward for the band, artistically and conceptually. I was finally asked to join the band several months later on New Years' Eve 2005, right before we took the stage in Fort Worth."

Only a few of the songs on Mercy had been completely written and played live before recording started. When the band entered the studio the majority of the tracks were works in progress -- pieces of music with no lyrics. "By the end of the recording of Mercy we had grown as a band and had the luxury of taking time to let it become it's own animal. The results show it was worth the extra time and effort. " It was a great experience and a lesson in 'good things take time" says Rozzoni.

Grammy award winning producer Joe Chiccarelli (The Shins, U2, Beck, Hole) was tapped to produce the new album. "When I heard the Burden Brothers, I thought this was a band with immense potential. I was instantly stuck by Vaden's voice and the high energy of the band"

Mercy shows a band that has grown in depth and diversity, as well a band not afraid to take chances. Lewis says " My favorite records have always been the ones that took risks, that weren't afraid to try different approaches to a common theme. This is what we were going for with Mercy. We strove to cover a lot of ground between the loud and angry punch of "I am a Cancer" and the somber and wistful feel of "Life Between". This kind of reach may surprise a few of our fans, but I think this is an album that they can listen to for a long time." Rozzoni adds "I feel like I gave birth... to a 7 headed child with schizophrenia! It's like a good movie. It has it's nice, sweet part; it's deep, thought provoking part; it's dark, brooding part; it has the car chase. It's all there."

"The live show is the album times 10," says Rozzoni. Vaden agrees. "With the Burden Brothers we decided early on to emulate the kind of feel that got us interested in music in the first place. We wanted to make every show an event. In the Toadies I went to lengths to make the show as visually low-key as possible. I hated the idea of the "rockstar", when in reality I have always looked at rockstars as...um rockstars...in a good way." "Everyone in the band grew up on and loved the old bombastic rock shows (KISS, Led Zep, Queen, etc.), so we do our best to bring that kind of thing to the stage. I think that, coupled with that fact that we can actually play our instruments, is why the live show is so good. Once we get in our groove I feel like no one can touch us," adds Rozzoni.

Burden Brothers - "Everybody Is Easy"
mp3
buy
Burden Brothers - "Shine"
mp3
buy