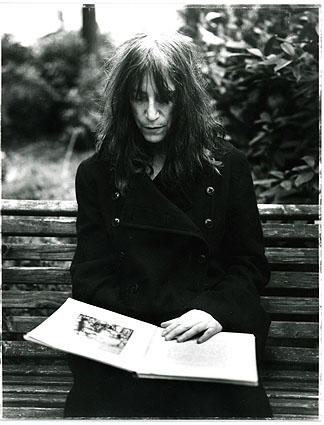 Just got the track listing for newly inducted Rock & Roll Hall Of Famer
Patti Smith
's album, which is actually her, her band, and some special guests covering tunes the record company calls "classic songs and overlooked treasures". Here's the line-up:
1. Are You Experienced?
2. Everybody Wants To Rule The World
3. Helpless
4. Gimme Shelter
5. Within You Without You
6. White Rabbit
7. Changing Of The Guards
8. The Boy In The Bubble
9. Soul Kitchen
10. Smells Like Teen Spirit
11. Midnight Rider
12. Pastime Paradise

Some pretty heavy hitters there...a couple of those you'd think would be untouchable iconic tracks better left alone, but on closer inspection, it looks like she's turning these songs into something else altogether. Check the credits of the Nirvana cover:
"Smells Like Teen Spirit"-Nirvana
FROM NEVERMIND
band:
Sam Shepard - banjo, tamberine
Walker Shepard - banjo
John Cohen - banjo
Peter Stampfel - fiddle
Duncan Webster - guitar
Yup, a banjo & fiddle version of the definitive grunge artifact. I'm most excited to hear how she works out The Doors' "Soul Kitchen", which seems ideally suited for her. The album's out April 24.
Here's a download of her groovy version of the classic Stones track, featuring Tom Verlaine and Flea:
Patti Smith - "Gimme Shelter
mp3
buy