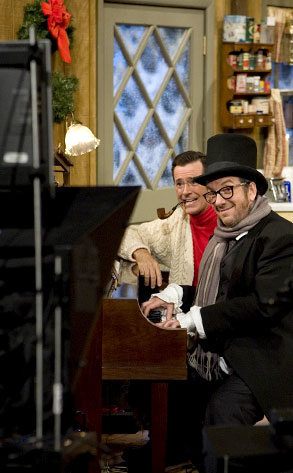 Just got this press release...how much fun does this sound?:
A COLBERT CHRISTMAS: THE GREATEST GIFT OF ALL

ONE-HOUR MUSIC SPECIAL TO AIR ON COMEDY CENTRAL NOVEMBER 23

FEATURES STEPHEN COLBERT, JON STEWART, ELVIS COSTELLO, FEIST, JOHN LEGEND, TOBY KEITH AND WILLIE NELSON

Adam Schlesinger of Fountains Of Wayne and Ivy, and David Javerbaum, executive producer of The Daily Show, have written eight original songs for A Colbert Christmas: The Greatest Gift Of All, a one-hour musical special which will air on Comedy Central on November 23. The special will also be released on DVD. Performing the songs will be Stephen Colbert, Jon Stewart, Elvis Costello, Feist, John Legend, Toby Keith, and Willie Nelson. A portion of the proceeds from the sale of the DVD will go to the charity Feeding America.

Songs and their performers include "Another Christmas Song" and "Cold, Cold Christmas" to be performed by Colbert; "Have I Got a Present for You" by Keith; "Little Dealer Boy" by Colbert and Nelson; "Hanukkah" by Colbert and Stewart; "Nutmeg" by Colbert and Legend; "Please Be Patient" by Feist; and "There Are Much Worse Things To Believe In" by Colbert and Costello. The entire ensemble also performs a version of Nick Lowe's "(What's So Funny 'bout) Peace, Love And Understanding."

Schlesinger and Javerbaum most recently collaborated on the Broadway musical Cry-Baby, which received four Tony nominations including Best Musical and Best Score. Schlesinger also recently produced 14 songs for the upcoming album by Dashboard Confessional. Fountains Of Wayne and Ivy are both currently working on new albums for 2009.
Steven Colbert + Adam Schlesinger = Holiday Cheer. If anyone can bang out some new rockin' holiday songs, it ought to be Adam S., who's previously given us one of the few modern-day power-pop holiday classics, Fountains Of Wayne's "I Want An Alien For Christmas".