The Bongos have two reunion shows scheduled for Joe's Pub on October 14! Hot on the heels of
The Feelies "semi-reunion" last weekend
, and
The dB's reunion of late last year
, maybe "The Hoboken Sound" is on it's way back...
For the uninitiated,
allmusic.com
says this: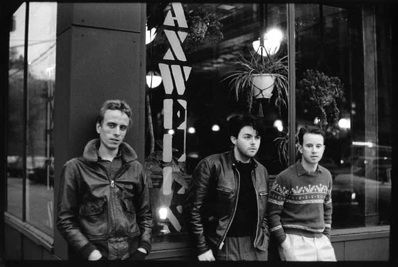 Hoboken's Bongos — founded as a trio consisting of
Richard Barone
(guitar, vocals),
Rob Norris
(bass), and
Frank Giannini
(drums, vocals) — made no pretense of being anything other than a pop band; fortunately, they were a good pop band, covering guitar pop from
the Byrds
to
T. Rex
, all of it pulled together by
Barone
's original songs. Although he was the focal point, the other members were by no means peripheral. After their first full-length album,
Drums Along the Hudson
(1982),
James Mastro
joined and contributed some stellar hooks. After releasing a series of singles and an EP on tiny Fetish Records in 1980 and 1981, the Bongos signed to independent PVC Records.
Drums Along the Hudson
compiled all their previously released tracks. They then moved up to major label RCA and released the five-song
Numbers With Wings
(1983) and the album
Beat Hotel
(1985), before leaving RCA and splitting up. At their best, the Bongos made some irresistible guitar pop.
According to
Richard Barone
's website:
Coming soon: The long-awaited re-release of The Bongos' "Drums Along The Hudson," their debut album, with special surprise bonus tracks! And, stay tuned for the announcement of a Bongos' reunion show to launch the release! More info soon....

However, as I was cruising the Joe's Pub ticket page looking for tickets to The BellRays show, I saw "The Bongos" listed next to them in alphabetical order, and sure enough,
they are on-sale now
.
The Bongos' MySpace
here
.
Richard Barone's MySpace featuring a download of the "Uptown Mix" of his
River To River
here
.
Barone plays at Joe's Pub Saturday (May 13) night...
tickets here
.
Jim Mastro's Guitar Bar in Hoboken
website
.
How The Bongos Changed Janeane Garafalo's World.
The Bongos - "In The Congo"
mp3
Buy Richard Barone music here
.
Bongos Photo above by Phil Marino.